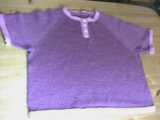 Henley T-shirt for Women from Knitting Pure & Simple in a rose 8-ply yarn from Heirloom Yarns for my Mom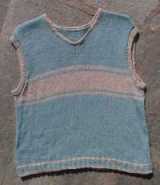 Made it up as I went along striped vest in Rowan dk soft.
Inspired by an Oleana cap I saw in an Oslo tourist shop, I poked around until I found similar colors and knit this hat using a color work pattern from a sweater in a Norwegian sweater pattern book.
I made these purple socks of idena Bambino ull for my Dad (he likes purple) also from Judy Gibson's "You're putting Me On Socks" using the figure 8 cast on this time.
This is a sweater I made for Theresa, my step-kid, who's 12 years old, from idena Cotton Big Sport yarn... I'm planning on writing up the pattern and posting it... soon!
These are socks from Judy Gibson's "You're Putting Me On Socks" pattern, with a "reverse star toe" that I made up as I went along, with varigated idena Bambino ull and LOVE the way the stripes make them matching, yet individual.
Another Wonderful Wallaby from the Cottage Creations pattern, this time in Brown Sheep Co's Lamb's Pride Worsted superwash wool, color: Amethyst. This one is Amalie's, size 10, and she really seems to like it.
Socks for the kids
These were made from Lion Brand Wool-Ease Color No. Wheat 402. The ones on the left are for my 8 year old SD who requested tube socks. Theyíre knitted for the leg in k2, p2 rib on 36 sts on size 3.25mm needles then I changed to a spiral rib for the foot and closed it with a ďstar toeĒ. The socks on the right are for her 12 year old sister who wanted regular type socks. These are basic socks with the leg and the top of the foot in k2, p2 rib with a round heel knit using heel stitch.
Lonely sock
This sockís mate got sent accidentally through the regular wash and now wonít fit a human foot. They were, however, wonderful socks from a pattern called Mamluke in Folk Socks by Nancy Bush knit in Brown Sheepís Nature Spun Sports weight yarn in Nordic Blue and a white color that Iím not sure of the name, perhaps it was Snow.
Snesokker
These socks are also after a pattern in Folk Socks called Merikeís socks, knit with Raumagarn Finullgarn with some adjustments to the colors. I used dark cherry, white and two colors of red that I had leftover from other projects. I really like the rwo rows of braiding around the ribbing at the top of these socks. According to Folk Socks, Raumagarn is available in the US through Nordic Fiber Arts.
Rowan DK Soft scarf
I knit this scarf from Rowan DK soft (SH 171 Lot 26C9 is what the label says) using a pattern from Barbara Walkerís Second Treasury of Knitting Patterns p. 219 called Vertical Drop Stitch. Itís wonderfully soft and when washed stretched to an enormously long length which enables me to wrap it around my neck at least twice and still leave plenty on both ends.
Cashmere scarf
This scarf was knit from 2 skeins of cashmere yarn that my wonderful cousin, Stephanie gave me as a Christmas present. The yarn label says Madil Vanity Shade 118. Itís 80% merino extrafine and 20% cashmere and is positively luxurious. I found a pattern in a book called Knitted Lace: A South African Guide by Jan Eaton that a Canadian knitter I met through the woolworks site sent to me (Thanks, Shirley!). The pattern is called Evening Wrap but I used less repeats.
Pattern no. 22 of the pattern book Alafoss Lopi No. 18 in medium green and white. Done in single strand icelandic unspun wool. My first adult sweater.
Pattern no. 7 of Alafoss Lopi No. 18 in dark blue, greens, copper, white and maroon. (Note: this pattern has a few rows of 3 colors in one row. Good thing I didnít notice this until it was much too late to pick another pattern!) Done in double strand icelandic wool. Came out way too big and was carefully fulled to the right size in the dryer while damp. Is very thick and very warm. (Too warm for my cousin Stephanie, the recipient of this sweater, to wear in Western North Carolina except for on the coldest days.)
Pattern no. 18 of Alafoss Lopi No. 18. Done in white, and dark, medium and light green. Also with double stranded yarn, not fulled but still very warm. Lovely for the Norwegian climate.
Baby set done in gray Nagano yarn and yellow Rauma Baby Garn. Pattern of sweater is from Elizabeth Zimmermanís Knitters Almanac. Cap and mittens are from Homespun, Handknit p. 80 "Bouncy Baby Set." Gift for a nephew.
Baby Lace Set in cream colored baby wool. Pattern p.78 of Homespun, Handknit. Notice the lovely increases on the top of the hat which is knit from the top down.
Baby suit and sweater. Sweater is again from E.Z.ís Knitters Almanac but with a lace pattern called "Catís Paw" from Barbara Walkerís pattern books. Suit is from a Norwegian knitting magazine called "Hjemmet" Nr. 16/01 and is a design by Anne Kirsti Espenes called Modell Perlemor. Gift for my friend Melanieís daughter.
Baby sweater from the same Norwegian knitting magazine in yellow and white Dale baby ull.
Hat to match.
Just completed baby "overalls" from the wonderful book that my sweetie bought me for Christmas Poetry in Stitches by Solveig Hisdal (wonderful Norwegian designer) in an Italian cotton yarn called "River Jeans" by "sesia". This one hasnít been mailed to the recipient yet so Shhhh!
Basketweave baby blanket with garter stitch edging for another nephew.
Tomten Jacket from Elizabeth Zimmermanís Knitting Without Tears made of gray Himalaya yarn and with a hot pink Snowflake border around the wrists and hood.
"Cross Country Ski Hat" from p. 53 of Homespun, Handknit in dark blue Gjestal Vestlandís Garn and white mohair with some changes to the top shaping. The mittens are Setesdal mittens from p. 45 of Folk Mittens by Marcia Lewandowski done in the same dark blue yarn and some leftover white wool. My Dad got the hat and my aunt Joyce the mittens.
Norwegian mittens. I got inspiration for these from Knitting in the Nordic Tradition by Vibeke Lind but I mapped out the pattern myself. The stars around the bottom and near the top are the same as the Setesdal mittens from Folk Mittens and the larger star is the Norwegian Selbu star. (These are mine and I wear them quite a bit. I canít remember what the yarn was but theyíre holding up very well.)
Two end mittens from p. 113 of Homespun, Handknit in Rowan DK Soft yarn. These are made with a Scandanavian technique of knitting from both ends of the ball of yarn, knitting one stitch with one strand and the next with the other. Not a technically difficult thing to do but oh-so-time-consuming. These mittens were gorgeous and soft and a Christmas gift for my dear friend Carol.
Vest for my Mom. This color pattern is from Knitterís Magazine Fall 2000 on p. 108. I changed all the colors around and, after studying the patterns for several vests, set out. I love the way this came out and she says she does too. Itís made in Gjestal Spineriís Nagano Superwash wool thatís very lightweight and soft.
Wonderful Wallaby sweater (sized for a 3 year old) made in Lion Brandís Wool-Ease wool/acrylic mix. The color name was Autumn. The Wonderful Wallaby is a very well- known pattern from Cottage Creations with lots of information about it available online.
An Aran sweater made for my cousin, Michael. For this one I used Barbara Walkerís A Treasury of Knitting Patterns and A Second Treasury of Knitting Patterns. It includes "Aran Diamonds with Moss Stitch", "Tight Five-Rib Braid Cable" , "Jacobís Ladder" and a regular 6 stitch cable running up the middle. I read about designing Aran sweaters in the Barbara Walker books and with inspiration from Elizabeth Zimmerman made a large swatch, mapped this one out and am ridiculously proud of the result. :O)
This sweater (for me) is made of Lambís Pride Worsted in "Prairie Fire." I absolutely loved this yarn and this color and worked out this raglan with 4- stitch cables on either side of the decrease lines after being inspired by a sweater I saw in a Norwegian womenís magazine. Itís a pretty basic sweater with some purl rows at the bottom and the cuffs to keep them from curling and a k3, p3 turtle neck that is left to roll down a bit at the top. Free Pattern Here